About Us
OUTLINE
Name of the
Organization
Dolphins Pacific
Address
P.O.Box 10044 Koror, Republic of Palau 96940
Contact
Tel: 680-488-8586 | 8582
Fax: 680-488-4562
E-Mail: reservation★dolphinspacific.com(change ★ to @)
Establishment
July 20, 2000
Purpose
To study special abilities possessed by dolphins, to put dolphins as teaching materials for environmental education, and to manage and operate a facility where everyone can experience those special abilities that dolphins have.
Our Three Philosophies
(1)Environmental Education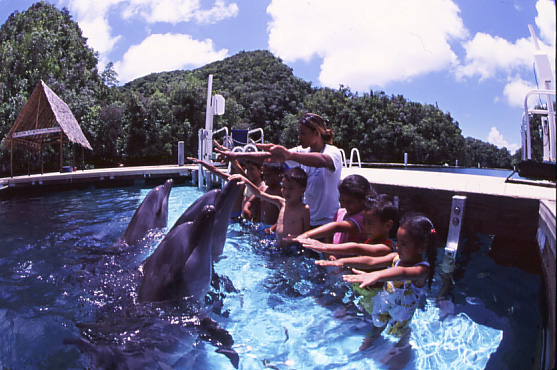 Advanced countries are stressing the importance of environmental education to promote respect and caring for our planet. The natural beauty of Palau is one of the most unique places in the world. It is important for the children of Palau, who will represent the next generation, to understand the preciousness of wild life and the importance of Mother Nature. The Dolphin Project provides us with opportunities to interact with dolphins. Children of Palau can learn many things first hand that they cannot learn in the classrooms (hands on experience). Our facility provides world-class education lectures for the children of Palau. An endorsement from the Government and from the Ministy of Education indicate that the Republic of Palau is recently aware of the importance and necessity of environmental education. We intend for our facility to be one of the teaching materials for environmental education for the children of Palau incorporated as a part of school programs.
(2)A Facility Where Everyone Can Have a Fun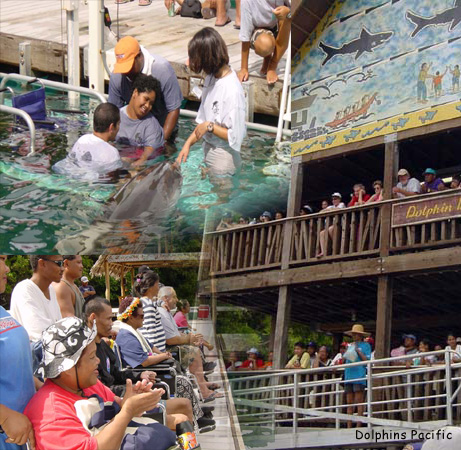 These special abilities of dolphins are said to be very beneficial to human beings, especially for those living in a stressful modern society like what we have today. Unfortunately, there are not many facilities in the world where we can actually experience the special nature of dolphins. Our facility will, of course, research these special abilities of dolphins. However, we feel that it is important to establish a facility where everybody --regardless of their physical and mental abilities-- are able to have contact with dolphins and experience their abilities in a natural environment. We intend to make our facility as open as possible to everybody, including those who are in special needs.
(3)To Develop Tourism in Palau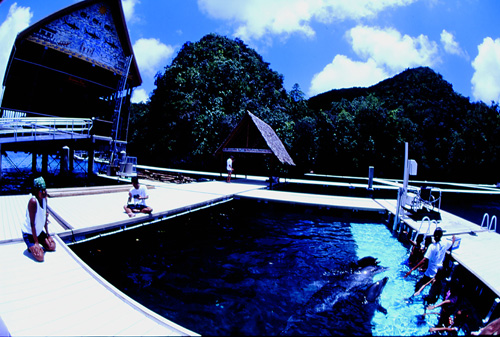 In order for the Republic of Palau to be economically independent not only nurturing of new industries is necessary but also it is essential to enhance as the main industry of the country. As it's known, the main source of revenue for the republic is tourism. The majority of current tourist activities are centered on scuba diving and game fishing but the number is not increasing. The reefs are currently at a point where additonal tourist activity may be detrimental.
UNIVERSAL DESIGNED
Making a reference to standard of ADA(American Disablity Act). We designed the facility easily accessed for handicapped. In our facility, ramps have replaced the stairs used to go up the buildings ;except Observation Building (able to access to second floor by elevator). Therefore a person in wheelchair can move easily around the facility. There are also equipment for getting in the water while in wheelchair(Wheelchair Lift). Everybody can enjoy interacting with dolphins without the concern of getting wet. Saltwater-proof wheelchairs are all the time equipped in the facility. However please understand that our facility is not specialized for particular one. Our facility is accessed by boat. Nowadays dolphin therapy is recognized for treatment purpose such as the handicapped patient seeking cure effect by playing with dolphin. On the contrary. Dolphins Pacific does not interaction with dolphin with minimize pressure to the dolphin.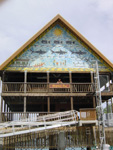 Slope access is equipped in the facility.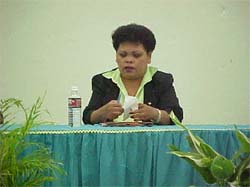 Supporters of Dolphins Pacific
Many volunteers are helping by escorting children, elderly people and the handicapped to our facility. Palau Parent Network(P.P.N.). an organization consists of family with handicapped children is engaged in total support of our facility. We are planning to accept volunteers form every countries. Palau Parent Network President Ms. Erma Ngwal "Dolphins Pacific is an educational/recreational program that welcomes everybody including individuals with disabilities even though it is not a Dolphin Assisted Therapy or Treatment, it is primarily educational and recreational."
OUR FACILITY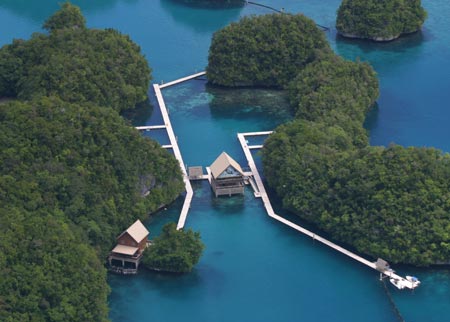 Palau is ranked as one of the number one undersea wonder of the world; this jewel of an island is now home to our new project "Dolphin Bay". Our natural park is the largest of it's kind in the world. Dolphin Bay is nestled amongst the beautiful rock islands just minutes via boat ride from the main town of Koror. Dolphins Pacific was chartered as a non-profit corporation in January 2000, and we contracted with International Bridge Corp. of Guam to build this massive $2.5 million dollar facility in the middle of nowhere. Fourteen months and one typhoon later the facility is in operation and offers a unique experience to both visitors and locals alike. A non-profit organization has been set up in accordance with the laws of the Republic of Palau. In addition to the pools we built a 2 two-story building. The first floor is our offices, diet preparation, restrooms, showers, conference room, class rooms, h2o makers (reverse osmosis water system) generators, transportable sewage storage tanks and veterinarian office. We hired a really talented local artist to decorate the exterior of both buildings with Palauan Story Boards.