PALAU
LOCATION
Palau can be accessed via Guam. It is about a 2 hour flight from Guam. Continental Airlines is convenient and has regular flights to Palau. Please note Palau is one-hour behind Guam's time.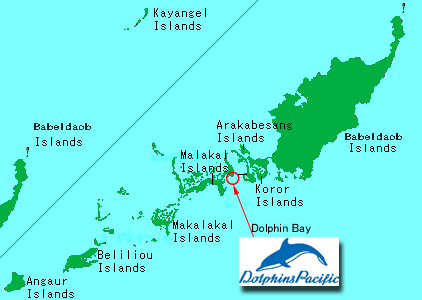 | | |
| --- | --- |
| Currency and Exchange | The official currency of the Republic of Palau is the U.S. Dollar. Money can be exchanged at hotels or banks. As the rates are not good, we recommend you to have the money changed before you leave your home country. Shopping can be done in cash, credit cards, and travelers' checks. |
| Voltage | 110 volts, 60 hertz, 2 terminal type electrical outlets. |
| What to Wear | T-shirts, shorts, and casual clothing, which is worn throughout the year. However, since the buildings are air conditioned, those who are sensitive to cold should bring long sleeves or jackets. Although Palau is a tropical island, it is not acceptable to walk around the streets in swimming suits or with your body exposed. Don't forget your hats, sunglasses, and rain coats (wind breakers etc.). Sunscreen is essential. |
| Airport Departure Tax | Set aside $50 U.S. Dollars for the departure tax at the airport. |
| Geography | It is a small island country just above the equator located on the western end of Micronesia, about 3000km south of Japan. There are a total of 586 islands of which only 9 are inhabited by people. |
| Politics | Palau gained its independence from UN trusteeship on September 1, 1994. It consists of 16 states with Koror(relocated to Melekeok) as the capital city. |
| Population & Language | It has a population of approximately 17,000. The native language is Palauan, however English is spoken throughout the islands. |
| Climate | Tropical oceanic climate. Average annual temperature is 27'C. Many squalls and high humidity. Mangroves and beaches spread out along the coasts of the Palau islands which are surrounded by lagoons. Babeldaob, the largest island of Palau, is covered with jungles still left untouched. The inland sea is dotted with countless numbers of uninhabited islands called rock islands. About an hour by speedboat or 2 hours by ferryboat south of Koror, are the historic islands of Peleliu and Angaur. Old battlefields of World War II still remain and a sight to see. As you can see Palau is a country abundant in nature both under and above the sea. |
SCUBA DIVING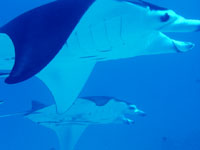 Clear blue sky, The coral reefs lie beneath the emerald green sea, Coconut trees and hibiscuses, Here is the paradise full of charm... The greatest diving spot in the world!
The lure of Palau lies in nothing else but the blue and perfectly clear sea! When the bright sun shines over it, the color of the sea turns another shade of blue and the colorful coral reefs become even more attractive.
Of course, in Palau, you can enjoy the immaculate sea by merely swimming in it. But we want you to feel the sea - the sea which is admired as the world's greatest scuba diving spot. Fishes will decorate the stage, manta rays elegantly dancing, and sharks displaying the exquisite beauty of their curves. From time to time you can have a glimpse of an exciting scene of the survival of the fittest. Blue Corner is the most representative place of all the diving spots in Palau and is visited frequently by many divers. Diving in Palau's reefs and seas will bestow profound emotions in you just as Dolphin Diving does.
ROCK ISLANDS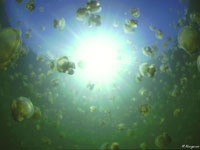 ■JELLY FISH LAKE■



The Jellyfish Lake, very rare in the world and filled with countless number of harmless jellyfish, is a spot we particularly recommend you to visit.
---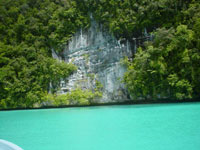 ■MILKY WAY■



Milky way is another attaction you might want to see. It is said that Milky Way's mud is very effective for esthetic purposes. Its effect has not yet been scientifically proven, but people in Palau have applied mud to their suntanned skin to cool down the sun burns and keep their skin looking young. Relax at milky way and keep your suntan longer.
---
■KAYAK■



Go kayaking in the natural world surrounded by mangrove trees and endemic creatures. You will find thousands of beautiful creatures that are unique to Palau.
---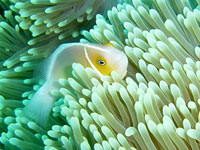 ■SEA■



The sea in Palau is breathtakingly beautiful. Unfortunately, there are not many beaches to lie down and enjoy. We recommend Carp Island, where you can stay for a day or overnight to enjoy the beaches of Palau.
---
FISHING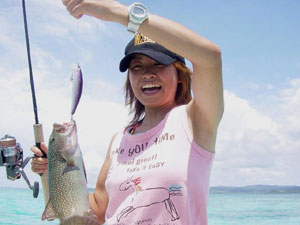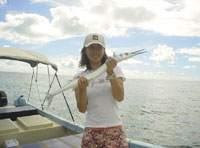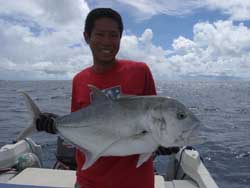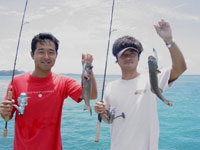 In Palau you can enjoy a wide range of fishing from full scale trolling to simple hand line angling. Fun for couples, families, and serious sports fishermen. Some might think that fishing in Palau is a tough sport but, if one uses the right fishing tackle fit for one's physical strength even women can enjoy having a catch. Among those on honeymoon here, for some reason or another, the bride who is a beginner always has a better catch. It happens quite often. Casting is a popular form of fishing enjoyed by both locals and tourists. The Giant Trevally, one of Palau's fighting fish known for its strength and endurance, makes challenging and great casting experience. Large hoppers splashing the water. The fish suddenly attacking, sending up a cloud of spray as if dynamites have exploded. Many anglers are captivated by such scenes.
NATURE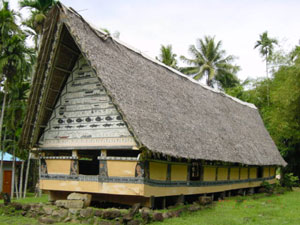 ■BABELDAOB ISLAND■



The capital of Palau was moved from Koror to the state of Melekeok in the northern island of Babeldaob. Palau together with the US have built a "Compact" road enabling people to travel easier throughout Babeldaob. Although it was a huge construction project both parties were very successful on keeping the natural beauty from further destruction and actually added more vegetation along the main road. The island is also full of historical monuments for you to see.
---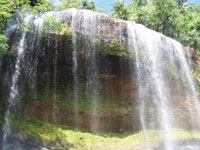 ■BEBELDAOB: WATERFALL■



There are two huge waterfalls in Babeldaob. You will have to take an adventurous long and muddy journey to get to the waterfall that is hidden behind the mangrove trees.
---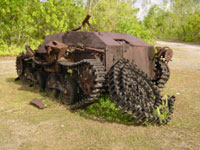 ■PELELIU & ANGAUR ISLANDS ■



Palau is not only an island of marine activities, but an island very rich in culture and history. If you want to know the real Palau, Peleliu and Angaur are the islands to visit.
---