LOCATION
WHERE WE ARE LOCATED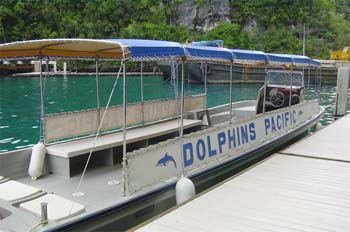 Dolphin Bay is accessible by boat leaving from the ticket center next to pier7dock. (Refer to the map below)

Please be punctual (on time) because the boat will leave on schedule.
If you are late your reservation will be regarded as cancellation.

* In order to prevent excess stress being imposed upon the dolphins, all participants must make reservations. We will only take confirmed and fully paid reservations to the facility.
* Please understand that participants late for the boat will be regarded as having cancelled their reservation.
* Participants are asked to find transportation to the ticket center. (See the map below)

If you would like, Dolphins Pacific provide services of picking or dropping visitors at hotels. (See information below.)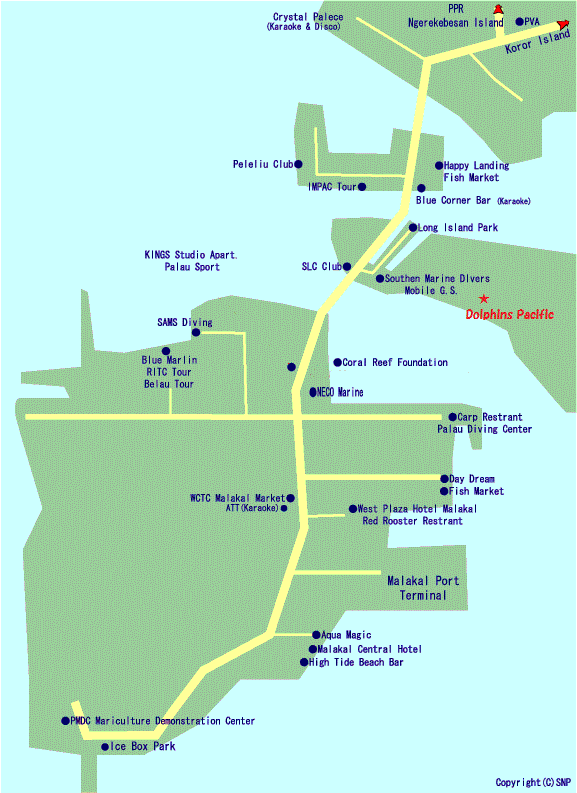 Information
1. Local taxies are available to take you from your hotel to the ticket center.

2. The ticket center is about 10 minutes from downtown and 15 minutes from Palau Pacific Resort.

3. Since travel time to the ticket center may differ depending on traffic conditions, we advise you allow sufficient time.

4. Transportation Service
***Fee***
13years old and above are $5.00 for one way/ $10.00 for round trip
3years old to 12years old are $2.50 for one way/$5.00 for round trip
Below 3years old (For child sitting on parent's lap only) are free.

We will not be able to accept only one adult customer(13years old and over) or one adult & one kid(12years old and under) for transportation. However if the customer is willing to pay at least fee of 2 adults, we will be able to accept them.
***Cancellation Fee***
100% cancellation Fee will be charged if cancellation is made on the same day of the reservation.
***Payment***
Payment will only be received directly at Dolphins Pacific Ticket Center on the day of the reservation. As always, we can accept cash, travelers check, and all major credit cards except for American Express.
***Reservation***
Reservations will be accepted by phone (488-8582 or 488-8973) or by E-mail reservation★dolphinspacific.com (change ★ to @) latest 2hours prior to pick up time.
***Pick-up Schedule***
We will be using one van to pick-up all guest from each hotel only in Koror. As for now, pick-up service for guest participating in activities starting at 9:45am or 1:45pm is not available.
The schedules to pick-up guest at specific hotels are as follows:
HOTEL
AT
AM
PM
Green Bay
Lobby
7:35
11:35
Cocoro & Tree D motel
Parking
7:40
11:40
WP coral reef
Lobby
7:45
11:45
WP by the sea
Palasia
Lobby
7:50
11:50
Palau Hotel
Main ST
Pent House
Main ST
Plantation
Lobby
7:55
11:55
Lens Motel
Parking
WP Downtown
Main ST
VIP Hotel
Lobby
WP Desekel
Lobby
8:00
12:00
Land Mark Marina
Lobby
Caroline Resort
Lobby
8:10
12:10
PPR
Lobby
8:15
12:15
Cliff Side

Lobby
8:20
12:20
Dolphins Pacific
***
8:30
12:30
WP Malakal
Lobby
8:35
12:35
Dolphins Pacific
***
8:40
12:40
Schedules is subject to change, depending on number of guest reservation.